Better to be on the safe side. We proofread all material twice

Our proofreaders will ensure that your text is free from errors before being printed or published online. To stop even tiny mistakes from sneaking in, each text is proofread by two different language experts – for your peace of mind, and ours.
Choose between proofreading of spelling, punctuation and grammar, and proofreading for style. Here we can point out repetitions, and polish up your language.
We can compare text and tables with a manuscript (for example when proofreading annual reports).
If we find any inconsistencies in the content, or factual errors, we will be sure to let you know.
"It's not what you say, it's the way that you say it, and that's what gets results"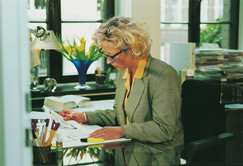 We ensure that your advertising copy is uniform not only in appearance, but also in style. During proofreading, we can check that your individual language specifications have been followed.
Every text is also checked for typesetting errors (indentation, typography, etc.). To ensure quality, we create client glossaries and style guidelines detailing the terminology, syntax and spelling rules used by our regular customers. These are updated on a regular basis. Should you wish to develop your own glossary or style guidelines, we would be happy to assist you.